Hydrophilic hybrid hydrogel admixture that provides superior internal and sub-surface concrete waterproofing.
Provides internal corrosion resistance and enhances the durability of the concrete.
Extends the life of concrete structures, exposed or submerged, above or below ground.
How it works
A powerful combination.
A two-part additive that reacts together once mixed in the concrete, to transform moisture in the porosity into a hydrogel. The hydrophilic hybrid-hydrogel properties stop moisture from moving through the concrete porosity, ensuring the concrete is completely waterproof internally and sub-surface.
For concrete waterproofing in infrastructure, marine environments, basements, below grade piles and foundations, CONQOR B52 is the answer.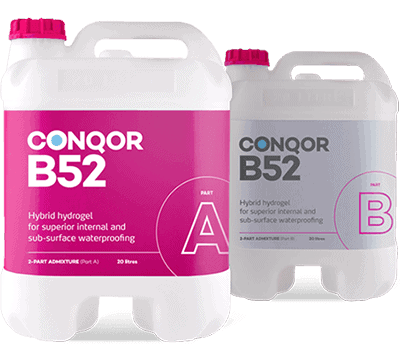 Internal Waterproofing Admixture
Utilising well proven hydrogel technology through the concrete matrix. Independent testing proves that CONQOR B52 complies with AS1478, meaning it only enhances your concrete.
Sub-surface Waterproofing
Hydrophillic hybrid hydrogel properties provide sub-surface waterproofing to the concrete with visibly reduced water absorption. CONQOR B52 passes AS1012 VPV proving permeability reduction.
Safe And Easy To Use Admixture
Liquid admixture for easy dosing at concrete readymix plant.
Talk to us.
We know what works
where and what doesn't.
We understand that choosing the correct solution and type of product is essential for the success of any project. Conqor has a technical support team with many years of concrete industry experience and successful project applications and are ready to help you find the right solution for your application. New Zealand
Monday to Friday. 9am to 5pm.

Australia
Monday to Friday. 9am to 5pm. United Kingdom
Monday to Friday. 9am to 5pm.